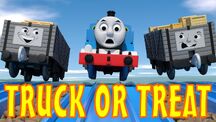 Truck or Treat is the forty-fourth short of Tomica Thomas and Friends.
Thomas was taking a goods train up Gordon's Hill. when he got to the top, the Troublesome Trucks pushed him down the hill  and  Thomas races past his older brother, Timothy. He races into Maron Station and into a siding. Sir Topham Hatt asked him why he was coming so fast and Thomas explains. Sir Topham Hatt tells Thomas that he needs to learn more about pulling goods trains and shunting them. Meanwhile his assistants grumble about an old man talking to trains and it is revealed the engine's faces and personalities are merely a figment of Sir Topham Hatt's Imagination.
Characters
Edit
Ad blocker interference detected!
Wikia is a free-to-use site that makes money from advertising. We have a modified experience for viewers using ad blockers

Wikia is not accessible if you've made further modifications. Remove the custom ad blocker rule(s) and the page will load as expected.