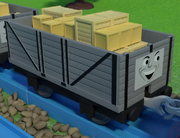 Troublesome Trucks
are the most wild and chaotic rolling stock on Sodor. 
Bio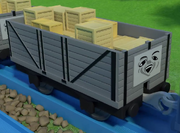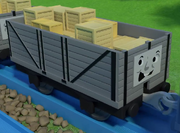 The Troublesome Trucks didn't talk much until
Troublesome Trucks
, where they were told by
S.C. Ruffey
to push
Edward
down Gordon's Hill and ran into
Arthur
. The trucks were part of
Henry
's train and laughed at him. at the Suspension Bridge, The
Slender Engine
came and took Henry and the Demon that was in S.C. Ruffey and erased the Troublesome Trucks' minds, which
Gordon
had found them.
In the CGI Series, the Troublesome Trucks did lots of chaos, such as derailing an original black James into a field, pushing Thomas all the way down Gordon's Hill and into Maron on a siding, which Edward would've taken them, and one of the Narrow-Gauge trucks blocks Thomas' path on the Mainland Viaduct, with a silly joke, but Thomas jumped tracks and made his way further on the Mainland.
Appearances
Gallery