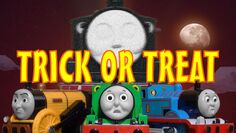 Trick Or Treat is a short from Tomica Thomas and Friends.
Henry was supposed to take a goods train when he saw the Slender Engine. He got stalked while Stephen told them about the masked engine who makes sure everything is in order for Halloween.
Characters
Edit
Ad blocker interference detected!
Wikia is a free-to-use site that makes money from advertising. We have a modified experience for viewers using ad blockers

Wikia is not accessible if you've made further modifications. Remove the custom ad blocker rule(s) and the page will load as expected.