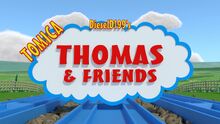 Tomica Thomas and Friends Shorts is a series of short episodes written by DieselD199. The first episode was uploaded on April 13, 2010. While the first two were intended for adult audiences, DieselD199 decided to write his shorts with a younger audience in mind for the following shorts.
Slow Motion Crashes
Edit
Wooden Railway Versions
Edit
Ad blocker interference detected!
Wikia is a free-to-use site that makes money from advertising. We have a modified experience for viewers using ad blockers

Wikia is not accessible if you've made further modifications. Remove the custom ad blocker rule(s) and the page will load as expected.