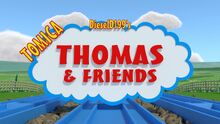 Tomica Thomas and Friends Shorts is a series of short episodes written by DieselD199. The first episode was uploaded on April 13, 2010. While the first two were intended for adult audiences, DieselD199 decided to write his shorts with a younger audience in mind for the following shorts.
What Does This Look Like To You?
Playing With Fire
Dèjá Vu
Corn Starch and Red Food Colouring
Health Ed
Attack of the Wooden Box on Wheels
Things Go Bump in the Night
Percy Comes Out
Operation Easter Special
Coal for Henry
Percy Strikes Out
Edward Helps Out
Neville Gets Bumped
Dirty Histories
My Funnel's Bigger Than Yours
An Average Day for Thomas
Slender Engine: The Eight Trucks
Come Out Henry!
A Mildly Bad Day for Sir Handel
Trouble in the Yard
Rosie's Valentine
Gordon, James, and the Special Coal
Branchline Diesels, Mainline Trains
Thomas & Stepney
April Fools Day
Devious Diesel 10
Dirty Diesels
Ducks, Diesels, and Demons
Troublesome Trucks
Joke's on You
Full Dream Ahead!
Trick of Treat
Deus Ex Machina
Incline Antics
A Brony on the Line
Unstoppable
The Tedious Tale of Timothy
Shed Y4083
Thomas in America
The Great Bridge Jump
Journey Beyond Realism
Slow Motion Crashs
Edit
Thomas in America
Unstoppable
Wooden Railway Versions
Edit
The Great Bridge Jump
Ad blocker interference detected!
Wikia is a free-to-use site that makes money from advertising. We have a modified experience for viewers using ad blockers

Wikia is not accessible if you've made further modifications. Remove the custom ad blocker rule(s) and the page will load as expected.