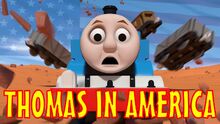 Thomas in America is the Forty-third Short of Tomica Thomas and Friends.
Thomas is traveling across Arizona in America, even though he doesn't know how he got to America, when he runs into trouble and topples off the tracks, down on the road, and down the slope. Thomas gets his undercarriage hurt from three rocks, gets a black eye from a big rock, and when he notices a sine of the famous Grand Canyon, he then shouts "What?!" and imminently jumps the canyon. Thomas thought it was over, but the cracks on the side of the big Canyon where he was made Thomas fall into the bottom of the Canyon. When Thomas returns to Sodor, Sir Topham Hatt asked how the trip was, but Thomas doesn't want to talk about it.
Characters
Edit
This is the first short to feature music by Upsidenow.
This Short was based off of the "Thomas Runs Into Trouble In Monument Valley" Video posted By the Thomas & Friends YouTube channel.
Ad blocker interference detected!
Wikia is a free-to-use site that makes money from advertising. We have a modified experience for viewers using ad blockers

Wikia is not accessible if you've made further modifications. Remove the custom ad blocker rule(s) and the page will load as expected.