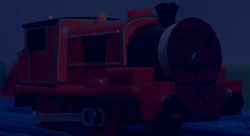 Halloween Engine is a spirit responsible for enforcing the rules of Halloween.
According to Stephen, the spirit roams all over Sodor making sure the rules of Halloween are enforced. When the Slender Engine seemingly has Thomas and Percy cornered, he intervenes and whisks the Slender Engine away. However, he does punish Percy for not wearing a costume.
Appearances
Edit
Halloween Engine is remodelled from Billy's body, with an added mask.
The Halloween Engine is based off the character Sam from the movie Trick 'r Treat.
Ad blocker interference detected!
Wikia is a free-to-use site that makes money from advertising. We have a modified experience for viewers using ad blockers

Wikia is not accessible if you've made further modifications. Remove the custom ad blocker rule(s) and the page will load as expected.