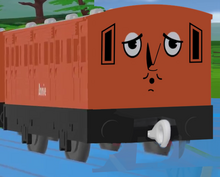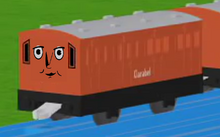 Annie and Clarabel are Thomas' faithful coaches, even though they do complain from time to time.
Annie and Clarabel appear when Thomas pulls them on his Branch Line. In An Average Day for Thomas, Gordon asked Thomas about who's running the line as Annie and Clarabel wonder when Thomas will be back for them. They were silent or cameoed for the rest of models series.
In the CGI Series, Annie and Clarabel appeared in Thomas abandons them to help Percy with his Pony and in the evening, Annie and Clarabel complain to Thomas about leaving his passengers behind, until Edward pulled up to Thomas and told him that Percy is leaving Sodor, so Thomas leaves Annie and Clarabel stranded again.
Apperances
Edit
Percy Comes Out (do not speak)
Percy Strikes Out (cameo)
Neville Gets Bumped (do not speak)
My Funnel's Bigger Than Yours (do not speak)
An Average Day for Thomas
Devious Diesel 10 (cameo)
Diesels, Ducks, and Demons (do not speak)
Troublesome Trucks (cameo)
Full Dream Ahead! (cameo)
Ad blocker interference detected!
Wikia is a free-to-use site that makes money from advertising. We have a modified experience for viewers using ad blockers

Wikia is not accessible if you've made further modifications. Remove the custom ad blocker rule(s) and the page will load as expected.